Photofile magazines
PhotoFile magazines are published intermittently to tell stories of my travels and photography projects. The 8.5" x 11" magazines vary in length depending on the location and subject matter and are generally 12 to 36 pages in length. Beautifully printed copies are available at www.magcloud for a nominal cost. A PDF version is also available for viewing here by clicking the PDF VERSION button next to each cover picture.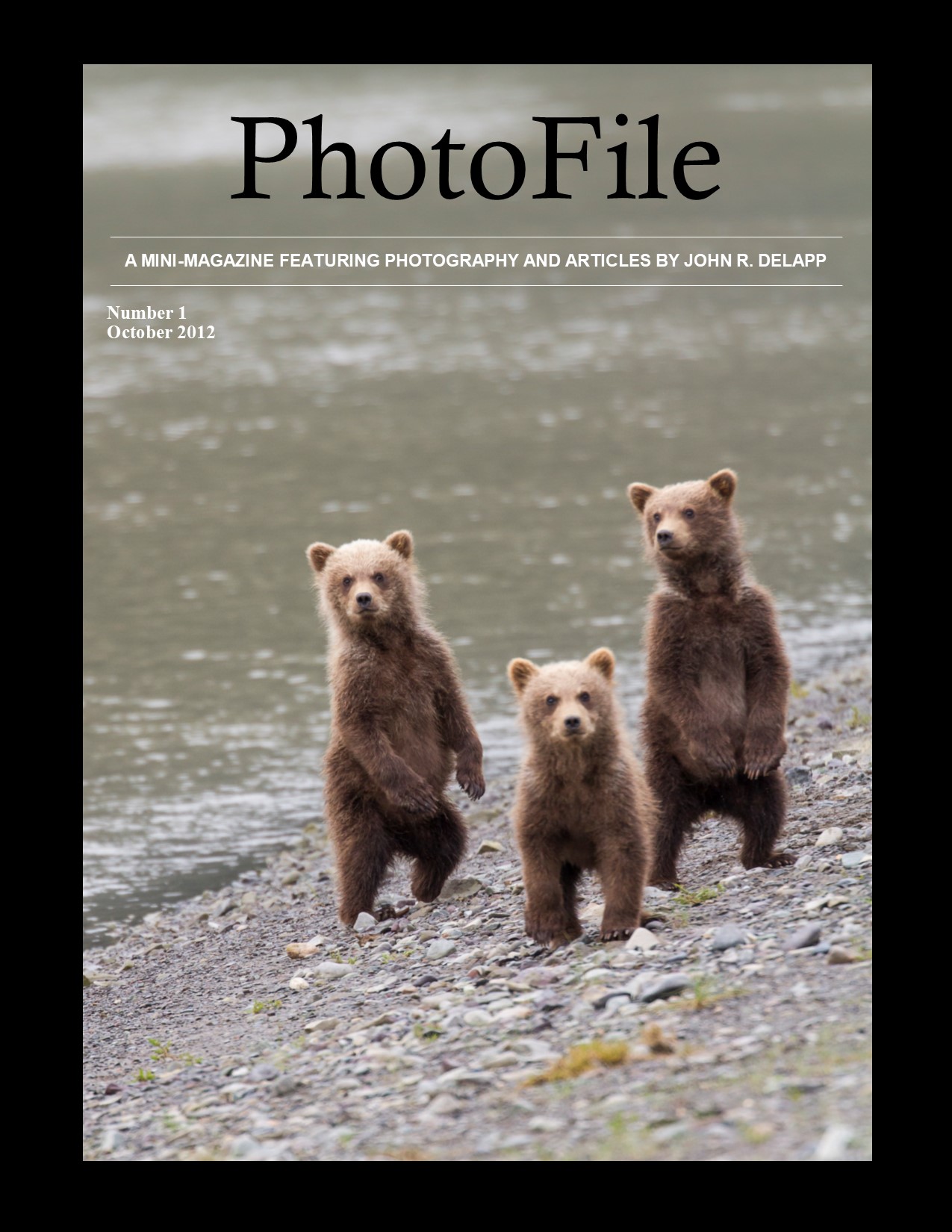 Chinitna Bay Bear Camp
Bears, bears, and more bears are featured in this adventurous, remote, fly-in camp tent located in Alaska's Lake Clark National Park on the west side of Cook Inlet. Wheel planes land visitors on the beach at low tide where visitors are housed in a tent camp and fed for two to three days. Guided bear viewing is provided by short walks from camp.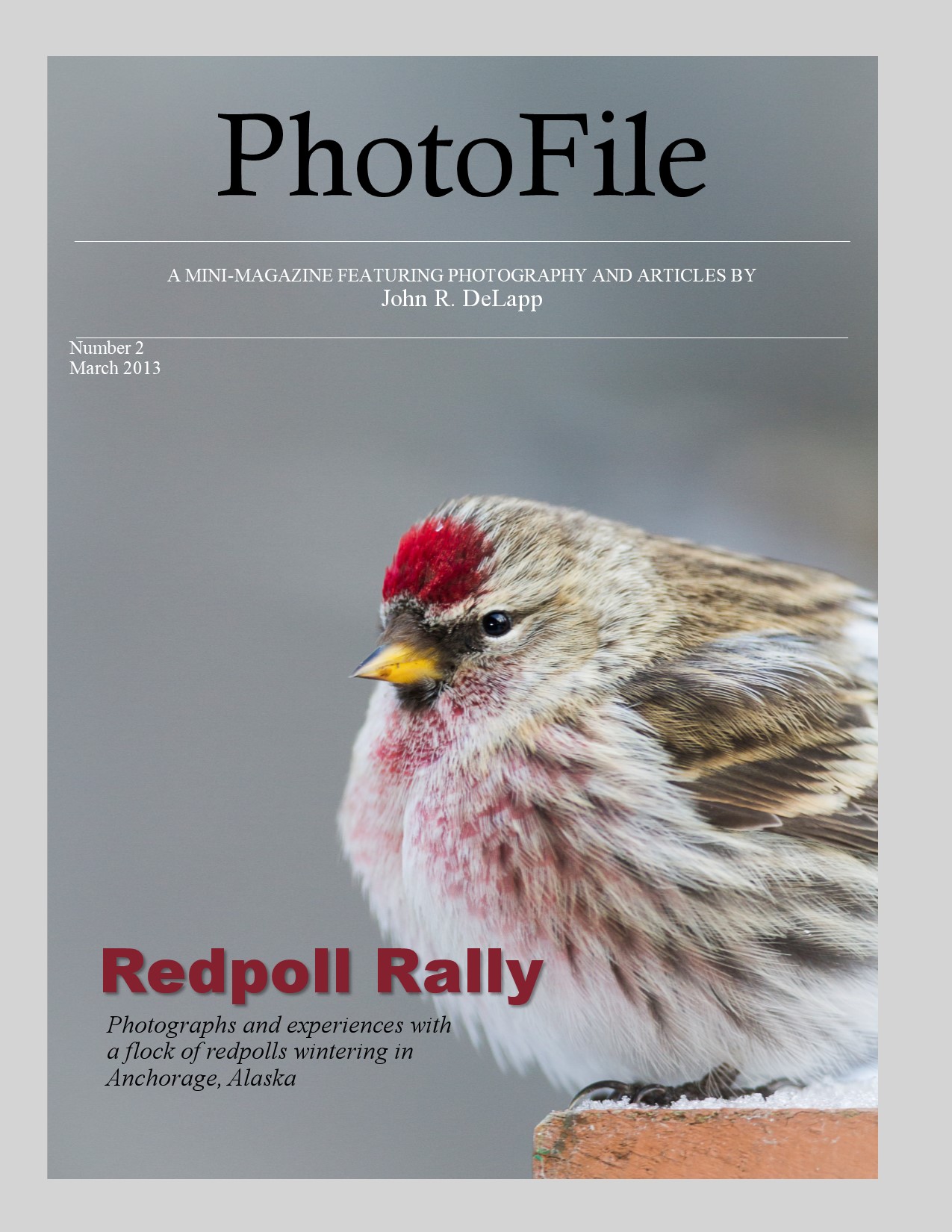 redpoll Rally
Redpoll Rally celebrates the appearance of a large flock of Redpolls that showed up in mid-winter in our Anchorage neighborhood for several weeks. Our feeders just outside our windows provided a unique opportunity to observe and photograph these beautiful little balls of puffy feathers with their red highlights. I was inspired to learn more about these handsome little birds and some of my findings are documented in the magazine..
Seawolf basketball
This magazine documents the last basketball games at the original arena (Wells Fargo Complex) on the University of Alaska-Anchorage (UAA) campus in Anchorage. The construction of the new Alaska Airlines Center was being completed at the time and all future games would be played at the new arena beginning in the fall of 2014. Twelve pages.
Denali
Planning a trip? This magazine is for you. Denali, the mountain, dominates the landscape and is a stunning sight, but Alaska's Denali National Park is much more than just one giant mountain. Its raw beauty, wildness, wildlife, and easy access is unequaled within the National Park Service system. You will find a wealth of information and photographs of this park in this issue of PhotoFile.
Road Trip
Road Trip includes photographs and a description of travels in a Sprinter RV to Morro Bay, California; McArthur -Burney Falls State Park, California; Malheur National Wildlife Refuge in Oregon; Yellowstone and Grand Tetons in Wyoming; and Dinosaur National Monument in Utah before ending in Grand Junction, Colorado.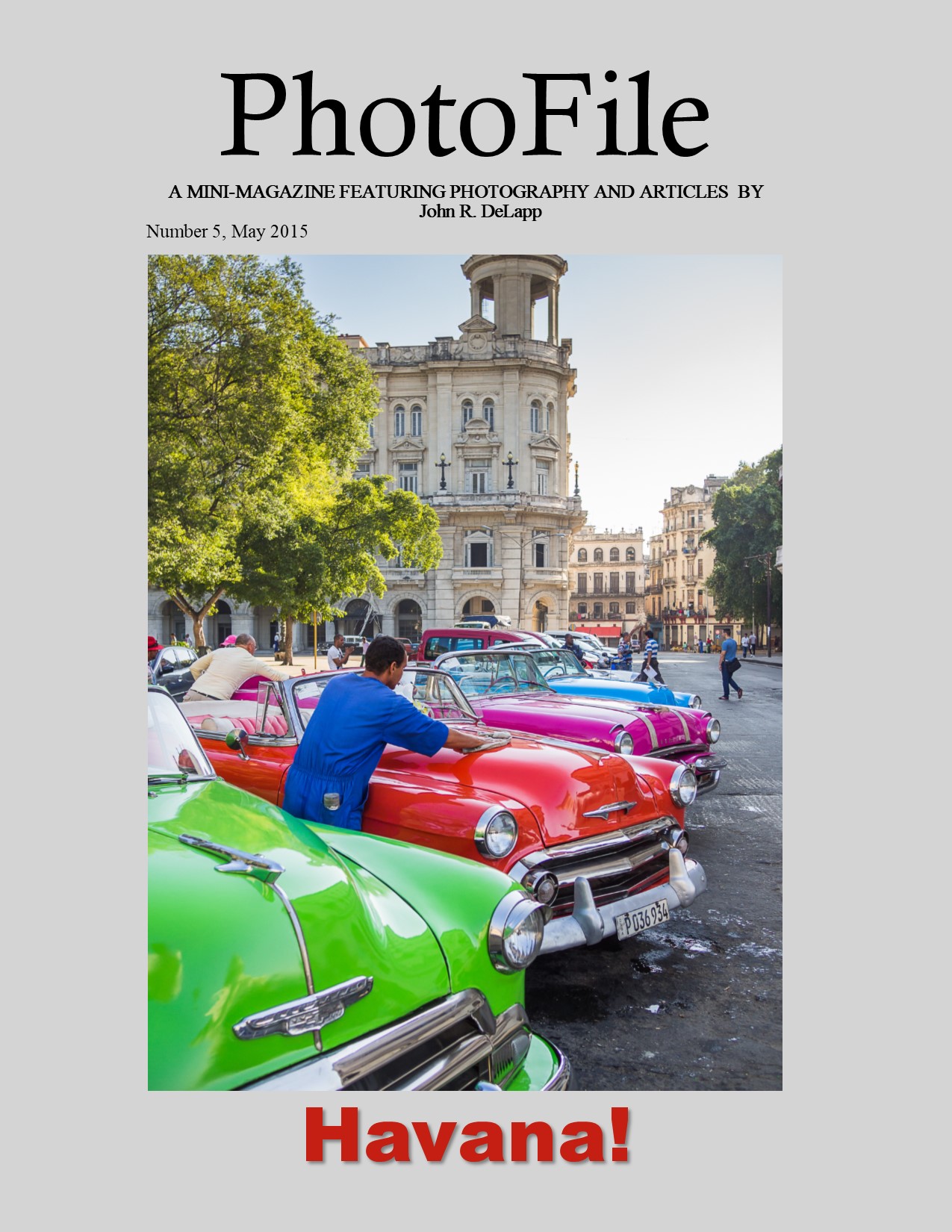 Havana!
Looking for information about travel and photo opportunities in Cuba? This magazine includes Cuban history, information about travel to Cuba, and many photos of Havana, its people, and culture from a week long stay in Havana in February 2015. Travel was arranged under a People to People Educational exchange for participation in a street photography workshop conducted by former photojournalist, Peter Turnley.
Bear Boat
This issue of PhotoFile is devoted to a fly-in trip to a remote portion of Katmai National Park located on Alaska's mountainous coast across Shelikof Straight from Kodiak Island. Coastal Outfitters' boat, a 72-foot vessel named "Breezers", was anchored at Hallo Bay ready for visitors arriving via float planes from Kodiak. Breezers was the visitors' "bear boat" wilderness home for the next several days. Included here is an account of this wilderness adventure along with many amazing images made during this trip in July of 2015.
A season to remember
The 2015-16 University of Alaska-Anchorage (UAA) women's basketball team is featured in this PhotoFile. Mayhem characterized the smothering defense that carried the team to a 38-3 season and a trip to the NCAA D-II National Championship game. This issue is a tribute to this special team that ended up in second place among more than 300 D-II teams in the country.
St.Paul Island
St. Paul Island is one of the Pribilof Islands located in the middle of the Bering Sea 330 miles off Alaska's southwest coast. This island is known for its fur seal population, world class birding, and its notoriously foggy and wind-swept environment. This twenty-four page magazine provides a short history of the island and community along with many images of this unique and interesting island.
anza-borrego desert state park
Anza-Borrego Desert State Park is California's largest state park and is located about a two hour drive east of San Diego. This 28-page issue of PhotoFile is filled with photographs and descriptions of the park's history and attractions. A popular attraction in the park are the endangered Peninsular Desert Bighorn sheep which frequent the park and are often seen near or in the Palm Canyon campground. The park surrounds the delightful tiny town of Borrego Springs which serves as the hub for activities, providing fuel, food, and lodging.